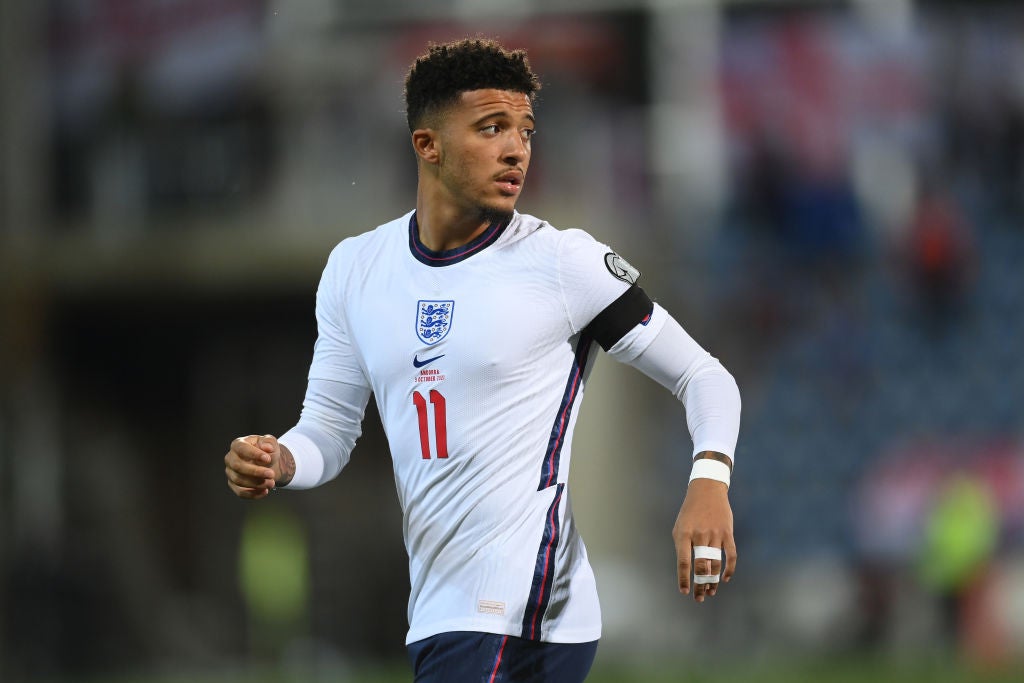 Moment fire breaks out at Andorra stadium during live TV report
England face what should be a routine task to pick up another three points and close in on automatic qualification for the Qatar World Cup on Saturday night as they face Andorra. There was pre-match drama the day prior to the match as the Estadi Nacional caught fire, but the damage was limited to pitchside and the game will go ahead.
In Group I, the Three Lions drew last time out in Poland but have won the other five of their six games so far and victory here, which is expected by all, will put them a maximum of six points from reaching next year's finals.
Gareth Southgate will be keen to see some of his fringe options put on a performance of note against the minnows, but it could still be a trial of patience to break down a team which will attempt to stifle England in the same way they did for long stretches at Wembley, before an eventual 4-0 win for the home side. Follow all the live updates as England face Andorra below:
1633806412
Andorra 0 – 1 England
20 mins: The goal was initially ruled out for offside against Sancho but VAR was asked to check the decision. The replay shows that it was an incredibly close call but Sancho did just enough to stay onside and the goal stands.
Michael Jones9 October 2021 20:06
1633806314
GOAL! Andorra 0 – 1 England (Chilwell, 17')⚽️
17 mins: England are in front! Jadon Sancho makes a run into the box from the inside left just as Phil Foden dinks another lovely pass over the top. Sancho brings the ball down but has his back to goal. He lays it off to Ben Chilwell who blasts it home with ease.
Michael Jones9 October 2021 20:05
1633806004
Andorra 0 – 0 England
12 mins: England are starting to turn it on. Foden fires a delightful long diagonal ball out to Sancho on the left wing to set the Manchester United man in behind. Sancho fumbles his control bringing the ball down but he's left with a one-on-one against Chus Rubio. He shimmies away from the defender and drives a cross into the middle towards Tammy Abraham. Abraham is blocked by a centre-back and doesn't expect the ball to reach him. It does though and Abraham is slow to react as the ball hits his chest and bounces away.
Michael Jones9 October 2021 20:00
1633805666
Andorra 0 – 0 England
9 mins: Kieran Trippier and Bukayo Saka combine to work the ball down the right wing. Saka brings it into the box and lays a pass off to Jesse Lingard. Lingard sends a teasing pass towards the near post but Saka doesn't continue his run and Gomes sweeps it up.
Michael Jones9 October 2021 19:54
1633805574
Andorra 0 – 0 England
6 mins: Phil Foden receives the ball in the middle of the Andorran half. He flicks a pass over the top as Ben Chilwell makes a run in behind the lines from the left wing. He brings down the ball but his first touch rolls it away from him. Goalkeeper Josep Gomes comes flying off his line and smothers it after beating Chilwell to the loose ball.
Michael Jones9 October 2021 19:52
1633805359
Andorra 0 – 0 England
3 mins: Marc Garcia tackles Bukayo Saka and gives England an early free kick over on the right wing. James Ward-Prowse swings the set piece into the box where Conor Coady and Max Llovera challenge for the ball. The Andorran defender does just enough to get above Coady and he knocks the ball behind for a corner.
Michael Jones9 October 2021 19:49
1633805221
Andorra 0 – 0 England
Kick off: Andorra get the match underway after a couple of false starts. A long ball comes up the pitch and is won by John Stones. Andorra managed just one attempt on their way to a 4-0 defeat at Wembley on 5th September so expect England to see lots of the ball.
Michael Jones9 October 2021 19:47
1633804870
Here come the teams
There's a reduced crowd capacity of around 2,300 watching in the stadium tonight with about half of them being England fans. The players head out onto the pitch and get a warm welcome from the waiting fans.
Michael Jones9 October 2021 19:41
1633804745
Pre-match thoughts of Gareth Southgate
Gareth Southgate spoke to ITV before kick off touching on the topics of the artificial pitch, Jadon Sancho and Tammy Abraham's recall. He said:
Michael Jones9 October 2021 19:39
1633804523
Away days
A few hundred England fans have travelled to Andorra which is located in the high mountains of the Pyrenees between France and Spain.
For context the population of Andorra is around 79,300 and the capacity of Wembley is around 90,000.
This is the first England away game since Covid travel restrictions were lifted and the fans will be ready to enjoy themselves tonight.
Michael Jones9 October 2021 19:35