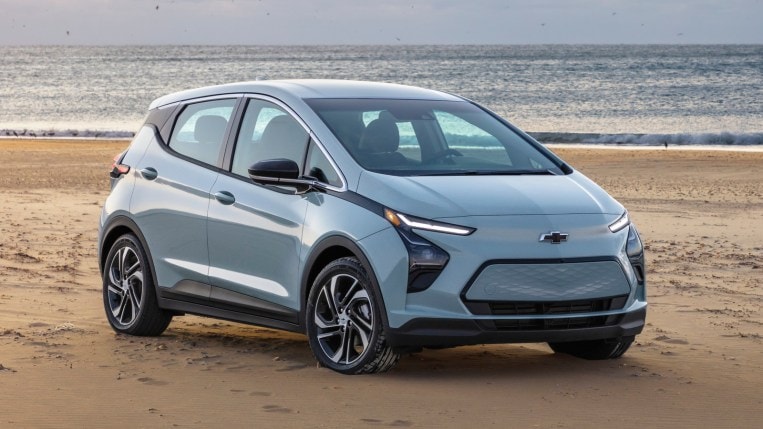 Chevrolet has pushed pause on a plan to replace the battery of every Chevy Bolt EV and Bolt EUV ever made. The company had already ceased building the two cars due to a worldwide microchip shortage but now says Bolt production has been put on hold.
"Because we are not confident that [Bolt battery manufacturer] LG has the capability to build defect-free products, we've put the repairs on hold and we are not building new Bolts. We're not going to start recall repairs or start building new Bolts until we're confident LG will build defect-free products," Chevy spokesperson Dan Flores told the Detroit Free Press.
Authorities suspect the Bolt battery defect in more than a dozen fires. Chevrolet has issued an escalating series of recalls for the Bolt, culminating last week in a plan to replace the battery module in every Bolt EV and EUV on the road.
Questions Remain on Replacement Modules
South Korea's LG Chem builds Bolt batteries. Chevrolet spokesperson Kevin Kelly tells Kelley Blue Book, "We have a long-standing partnership with LG and will continue to work with them to address known issues. Both companies have teams working around the clock reviewing data and finalizing plans for repairs. GM will only begin replacing battery modules in customer vehicles when GM and LG are confident in the safety of LG's product."
GM and LG Work Together on Other Products
Chevrolet parent company GM does not use the batteries found in the Bolt pair in any other cars. The company has developed a new battery architecture it calls Ultium. LG also builds the Ultium batteries. The Ultium platform underpins forthcoming GM EVs like the GMC Hummer and Cadillac Lyriq. It uses different chemistry than the battery found in the Bolt.
Bolt Owners Urged to Follow Safety Protocol
For now, the automaker is asking Bolt owners to follow a safety protocol meant to reduce fire risk. Chevrolet says:
We are asking Bolt EV and EUV owners to follow these steps until we are able to get their battery modules replaced:
Set their vehicle to a 90% state of charge limitation using Target Charge Level mode. Instructions on how to do this are available on chevrolet.com/boltevrecall. If customers are unable to successfully make these changes, or do not feel comfortable making these changes, GM is asking them to visit their dealer to have these adjustments completed.
Charge their vehicle more frequently and avoid depleting their battery below approximately 70 miles (113 km) of remaining range, where possible.
Continue to park their vehicles outside immediately after charging and not leave their vehicles charging indoors overnight.
However, a recent report indicates that up to 30% of Bolt owners may not be following the instructions.
No New Clarity on Buybacks
Users in several online forums have claimed that GM has purchased their Bolts back for their entire initial purchase price.
We've heard from several concerned Bolt owners looking for more information on the buybacks. We asked Chevrolet again for more details yesterday. Chevy said only, "buybacks are determined on a case-by-case basis."
We suspect state lemon laws play into that decision. We'll continue seeking clarification. For now, we can only advise frustrated owners to follow Chevy's safety protocol.