07:55
12th over: New Zealand 35-1 (Conway 23, Young 2) But what we were really waiting for was another over from Broad, who might just squeeze in one more after this before lunch. Dracarys, etc. Conway bunts a single to cover, then Broad jags one back into Young and begins an appeal before processing the inside edge; he and the crowd will be willing Wood to get through quickly.
07:50
11th over: New Zealand 34-1 (Conway 22, Young 2) Young gets away with a clip off the pads for two, the only runs off a much better over from Wood.
"Oh the irony," emails Adam Roberts. "The Edgbaston crowd booing a batsman for not walking. They do realise it's Stuart Broad bowling, do they?"
I don't think they were booing that, they were booing not getting what they wanted in the manner of all sporting crowds, and they'll now thcream and thcream until they're thick.
07:48
10th over: New Zealand 32-1 (Conway 22, Young 0) Yeah, Crawley might've got fingers underneath that but you just can't tell. It always looks like it's hit the ground because fingers are flat affairs and I wonder how many calls have been overturned – can't be many.
07:44
REVIEW! Conway is not out!
I think that's the right call but ultimately it's all about the soft signal because had that been out I think it'd have stayed out.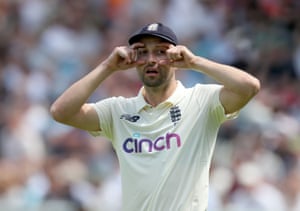 Updated

07:43
The soft signal is not out, which amuses Broad every bit as much as you'd hope and expect. He slaps his thigh, kisses the umpire, and chuckles away to the non-striker. I don't think this out.
07:42
10th over: New Zealand 32-1 (Conway 22, Young 0) Broad will be ganting on getting Young on strike , but he's got Conway, who edges his first delivery to Crawley at third slip! There's an appeal….
Updated

07:40
9th over: New Zealand 32-1 (Conway 22, Young 0) Interesting! I thought Anderson might've kept at it but he's not been as threatening as usual this morning, so a burst of Wood before lunch makes sense – that feels like good captaincy from Joe Root. However. Wood's loosener is wide and Conway bangs it through point for two, then carts another to the cover fence – he's in absolutely perfect touch … so doesn't miss out when another wide one allows him to square-drive four more. The ball's not doing much, so when you're seeing it as he is you're set; in a bid to combat that, Wood moves to around, and second go, Conway nearly drags on! But when it's going for you it's going for you, so they run one then two leg byes, making for 13 off the over.
Updated

07:34
8th over: New Zealand 19-1 (Conway 7, Young 0) Broad's getting the knees and arms going – we're one wicket, or one rejected appeal, or one incorrect review away from flames coming from the nostrils. Yes, or the simple passage of time. He's bowling beautifully now, and his third delivery is absolutely monstrous, back of a length and screeching past Young's outside edge on the rise. Pressure is building and England are legging through at change of over because they can sense an opportunity.
Updated

07:30
7th over: New Zealand 19-1 (Conway 7, Young 0) On the balcony, Ross Taylor limbers up, but in the middle Conway glides Anderson through cover for four; that's a lovely shot, trigger movement going with the outswing to initiate a lovely, flowing drive. Anderson looks extremely displeased, still muttering and head-shaking after the next delivery – which had more pop on it as you'd expect. The sun is out now, and it's getting warm out there – this is terrific stuff.
Updated

07:27
6th over: New Zealand 15-1 (Conway 7, Young 0) Young, playing his third Test, is in next in the absence of Williamson. The crowd are right into this now, Broad urging them on to urge him on; man, I'm going to miss him sometime in the 2040s when he finally hangs up his celebrappeal. He's running in beautifully now – who knew that he should bowl fuller? What a revelation!
Updated

07:24
WICKET! Latham lbw b Broad 6 (New Zealand 15-1)
Broad goes fuller, there's movement off the seam, and he clouts Latham punkt in front; Latham appeals to Conway for a reprieve but he's quickly sent on his way because that is absolutely dead.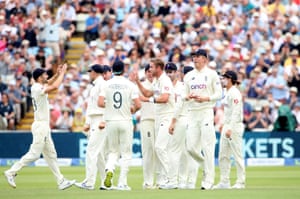 Updated

07:21
5th over: New Zealand 14-0 (Latham 6, Conway 7) Anderson is also ensconced, looking to go across Conway before trying a wobble-seamer that's defended well. The final delivery yields a leg bye off the hip, the only run off the over which makes for a second straight maiden.
"Today is nice and straightforward," emails Matt Dony. "Tomorrow is where the cognitive dissonance comes in. I'll be simultaneously supporting England at cricket and Wales at football. Doesn't quite feel right, somehow. (Yes, I know it's the 'England and Wales Cricket Board', but there's not been a whole lot of Welsh representation recently. I am currently available for selection, though, should they want to address the issue.)"
I'd enjoy today if I were you!
Updated

07:17
4th over: New Zealand 13-0 (Latham 6, Conway 7) If you'll excuse the namedrop, KP once told me that before England played South Africa once, they were going through the opposing batsmen working out how to get them out, and when they came to Kallis, the best they could do was say he was a run out candidate early in his innings. This reminded me of that, but Broad looks settled now and sends down a maiden.
Updated

07:14
REVIEW! Conway is not out.
He was paying attention, so turned, grounded his bad, and slid it in. Well done him.
Updated

07:14
4th over: New Zealand 13-0 (Latham 6, Conway 7) Now then! Latham drives hard down the ground, shatters the stumps … and did Broad impart finger? Was Conway out of his ground? Broad thinks so! You'll be shocked to hear! Upstairs we go!
Updated

07:12
3rd over: New Zealand 13-0 (Latham 6, Conway 7) Latham sees one from Anderson – it's not a bad ball, but he picks it up so quickly that he merely proffers the bat, enough to send it back down the ground for four. This is a decent start – both batsmen look confident and comfortable – and a further single, nudged off the hip, is the only further news.
07:08
2nd over: New Zealand 8-0 (Latham 1, Conway 7) Stuart Broad could do with something here but, going around to Conway, he's clipped off the legs for four, then again for two more. He finds his line thereafter and four dots follow.
Meanwhile, the equally heroic Nick Wiltshire points out that TMS are, finally, telling us where to find them – the key is to look for the words "TMS overseas".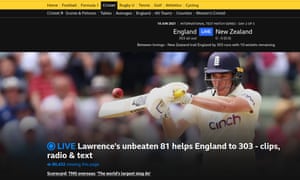 07:03
1st over: New Zealand 2-0 (Latham 1, Conway 1) Anderson opens with a wide outswinger, and another – there's movement through the air, but the line isn't quite right. Next ball is straighter … but too straight, nudged off the hip for one as the crowd sing Jerusalem and applaud themselves, before Joe Root applauds them applauding themselves. It's a lovely moment, then Conway bumps a single to get himself away.
The heroic Harry Coleman sends in the overseas TMS link:
Updated

06:57
Brendan Large is the second to email in asking for the TMS overseas link. Come on people.
06:56
"Sadly, the only place that Crawley will be making runs for Kent will be in second XI cricket," reminds Simon Thomas, "as there is no red ball stuff for county cricket for a few weeks. It's only the middle of summer, so can't be doing with that Championship stuff."
Interesting point: when is the middle of summer? Or is it just whenever we have a few days of clement weather?
06:54
"Just wanting to check on behalf of all of us – OBO will be covering the India v NZ final I hope?" wonders Pete Salmon. "And if so, what's the feeling among the OBO crowd about who we are supporting, so we can continue to predict batting collapses, get exasperated at loose shots, and wonder about such things team selections, bowler's lengths and foolish decisions at the coin toss. And who are our cult figures? I mean I know the answer is New Zealand, but I think we need to start parsing that position."
Yup, we'll be on that. Our cult figure is Stuart Broad.
06:54
England would've taken 303 yesterday afternoon and New Zealand probably would've done too, which tells us we've got a proper match in prospect with a positive result likely. Anderson legs it off to get his bowling boots on, and how performs over the next – potentially crucial – hour could potentially be crucial. Same goes for the hour after that, and the hour after that, and the hour after that. I'm sensing a pattern.
06:51
WICKET! Anderson lbw b Boult 4 (England 303 all out)
Yup, that was cracking leg stump and Lawrence is indeed left high and dry. 81 unbeaten runs, bet you think that's pretty clever don't you boy.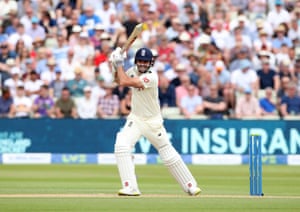 Updated

06:50
On second glance I though there was an edge, but no, there wasn't. Anderson is in all sorts here…
06:49
101st over: England 303-9 (Lawrence 81, Anderson 4) Boult has an over at Anderson, who airily swings at its opening delivery and misses by plenty, then softly edges to drop shy of slip. Two more dots follow, then Anderson misses one that cracks the pad and there's a shout; the umpire says no and New Zealand review….
06:45
100th over: England 303-9 (Lawrence 81, Anderson 4) Wagner asks himself to have a bowl and Lawrence looks to come down, then checks himself. Next ball, though, he clumps back towards the bowler – that might've been a catch, you know – but Wagner isn't paying attention and they run two, someone, Henry I think, dragging back from the rope on the dive. Lawrence is creeping ever-closer to the horrendous and heart-rending disappointment of a 90-something not out and there we go, he gives himself room by easing to leg, then tosses the lot at a wide one which he carves over the top for four more, raising England's 300 in the process.
06:41
99th over: England 299-9 (Lawrence 75, Anderson 4) Dean Smith, the manager of Aston Villa, is enjoying the action, which prompts Holding to run a lifetime of dignified, reliable brilliance by confessing to supporting Spurs. Back in the middle, Anderson opens the face to glance four away through slip and the remainder of the over passes with dots.
"Not sure if they're up there with the Trent Bolt," says Brian Withington, "but I can offer up:
Anderson Shelters
Root Canal Dredging
Lawrence River Cruising
Traditional crafts:
Stone Masons
Wood Cutters
Broad Sword Sharpeners
and on the medical services front:
Burns Unit
Knee Bracey."
I remember as a student wondering why no Arsenal fan had written Thierry on every Henry; perhaps in New Zealand, someone has done so with Mark.
06:37
98th over: England 293-9 (Lawrence 75, Anderson 0) It's a shame Broad didn't hang around long enough to enjoy Wagner, but more importantly, Michael Holding loves the sun and hates aircon – rightly so. Meantime, Lawrence takes a short step to leg and lofts Henry over mid off for four. That's a very nice shot.
"There's already a Trent Bridge, a Trent Junction, a Trent Jet Engine from Rolls-Royce and so on," informs John Starbuck. "A Trent Bolt would need to be absolutely secure and last almost for ever."
To say nothing of Trent Park, nor Trent Trent, the England right-back.
06:32
97th over: England 289-9 (Lawrence 71, Anderson 0) Out comes Jimmy Anderson in his 162nd Test. I don't think any of us can fathom what it takes to achieve that, but we know it's more than the most we can possibly imagine, which is a lot. He sees away four dots, making that a second consecutive wicket maiden.
"I am absolutely willing Mark Wood to at least 50," says Toby Sims, "not only because he seems like one of the nicest blokes in cricket, but also, if he's got the confidence and adrenaline pumping, I reckon he could crack 100mph…"
It didn't work out but I daresay he'll still be at it, while David Turnbull would like the TMS link if anyone knows where to find it.
06:29
WICKET! Broad c Blundell b Boult 0 (England 289-9)
With the field set for a short one and Broad primed to step away, a fuller one moves away, he tentatively follows it, and feathers a catch behind.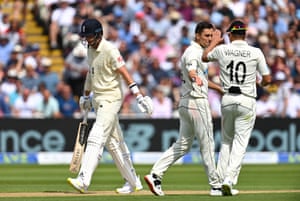 Updated

06:26
96th over: England 289-8 (Lawrence 71, Broad 0) A wicket maiden for Henry, Broad earning a leg bye with his hip but nothing else.
"I have mixed feelings about James Bracey," says Will Lane. "He did look absolutely gutted yesterday, but then again he probably should as it was a terrible shot. They clearly won't do it, but it would be nice for England to let him bat at no.3 in the second innings. If he is to play in the later tests this summer that is the position he will bat anyway, and poor Zack Crawley is a walking wicket at the moment. It would be an opportunity to see how he can bat there, and gives him a chance to make amends for himself."
I don't think they can do that to Crawley, but I do appreciate your point – sometimes, batsmen calibrate their game or, more likely, their mind unwittingly calibrates their batting according to where they are in the order. Crawley might've been struggling were there a third Test, but now he can nip off and make some runs for Kent.
06:22
WICKET! Wood b Henry 41 (England 288-8)
Here it is! Henry pitches up and Wood looks for another monstrous drive, down on one knee to clatter and inside edge into off stump. That's a very valuable contribution from him, and sets up Neil Wagner bowling short at Stuart Broad.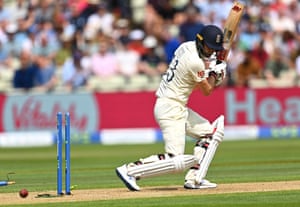 Updated

06:20
95th over: England 288-7 (Lawrence 71, Wood 41) Now Lawrence – who's been allowed to settle nice and slowly – presents the full face to Boult, earning three to long off. But all that does is bring Wood onto strike, and you know what's coming next! What a sentence that is! He gets down on one knee and unloads the suitcase at a wide one, getting just enough on it to add four over slip and down to third man. A single follows and this has been a great start for England, which means hilarious collapse is almost upon us.
06:16
94th over: England 280-7 (Lawrence 71, Wood 36) Has a metalware or door-lock company in New Zealand designed a Trent bolt yet? What other cricketing products might we invent? How about … HAVE A LOOK! Wood collars Henry from outside off for four pulled through midwicket, then eases another short one over the slips for another boundary. What a player! New Zealand have let England get away here – they've scored 22 off the opening four overs and the partnership is 58!
Updated

06:12
93rd over: England 272-7 (Lawrence 68, Wood 28) We see a strong breeze fluttering a George cross; I'm not sure what happened next because my eyes filled with tears. That poor, magnificent dragon. Anyway, the point Nasser was making was that the conditions are nice for Boult's inswinger, but after two dots he tries a boomp-ah, so Wood top-edges a hooke for four. So Boult goes around, and after a quick sight-ah, Wood times a dab beautifully, and the ball charges away for another four, just behind square on the off side. "He looks a bit stiff, Trent Boult," says Nass.
06:08
92nd over: England 263-7 (Lawrence 68, Wood 20) Henry takes the natural vector of disease from the other end and sends down three dots that Lawrence leaves alone; somewhere in the dressing room, James Bracey sobs into his gloves. More dots follow, and that's a maiden.
"I'd like to propose that each commentator is allowed a ration of times that they can say that the next session is crucial," emails Neil Withers. "They can say it exactly the same number of times that they say the next session is NOT crucial. Just a thought to cut down on statements of the bleedin' obvious."
Around these parts, we're next hour is crucial. We said it a lot this time last week, when it rained all day.
06:05
91st over: England 263-7 (Lawrence 68, Wood 20) Boult goes short and Lawrence pulls uppishly for one, then Wood presents the full face. He's got a big job on here and you can be sure he's up for it; he drops hands and withdraws phizog as a lift-ah arrives. Then another, which he wears on the forearm and sends to third slip, then a dot … and then a gloooorious cover drive that follows one shaping away. It hurtles away fo fo, and the crowd already sound nicely lubricated. I could listen to it on loop.
06:00
Lawrence takes guard and has a look, Boult takes aim. Good luck, boys. Play.
05:59
Out come the teams. T-2 to people applauding themselves for singing Jerusalem.
05:57
"Another reworking of a Paul Simon classic, that finds Dan Lawrence and his admirer in and around Birmingham rather than New York (and Mexico way)," begins Brian Withington.
"Dan, keep your head right in line
I know your knock'll go fine
Dri-ive back down the ground
Doh-n-doh-de-doh-n-doh
And here you are
The only Essex boy in Brum
I get the news I need on the G's OBO
Oh, I can gather all the news I need on the G's OBO
Hey, you've got nothing to do today but score
Doh-n-doh-de-doh-n-doh
And here you are
The only Essex boy in Brum
Most of the team is out
But we don't know how
And we don't know why
Some of the time it swings
But we don't know when
And we don't know why
Dan, keep your head right in line
I know that you're eager to bat long
Hey, let your flick to leg fly, fly, fly now
Doh-n-doh-de-doh-n-doh
Like it flies for me (Here I am)
The only Essex man in Dorridge
The only Essex man in Dorridge."
Updated

05:54
Email! "How happy to see the two sides battling it out on the green," says Bill Hargreaves. "Wonderful. Next few days look like being a good stage for the England spinners. I beg your pardon? Oh. Well they'll need a few drinks breaks, so."
Michael Holding just said that he thinks Root is as good as any of the others they've picked recently, which seems a bit harsh on Jack Leach but you know where he's coming from. England do have balance issues though, which is a strange consequence of having so many serious quicks (and a coterie of talented by flaky batsmen).
05:52
He was helped by his pacemen and by England's batsmen, but Ajaz Patel bowled nicely yesterday. He might just have done enough to force his way into the XI for the final, though I guess it's more likely we'll see Santner, if fit.
05:47
On Sky, Nasser reckons England's batsmen – Crawley especially – rely too heavily on their bottom hand when driving. He also notes that Lawrence can do that at the start of his innings, before moving on to poor Bracey who looked like he couldn't believe what he'd done when standing there after getting out. You couldn't help but feel for him, which is an unusual sensation when someone chases a wide one first ball.
05:43
I should also say that yesterday's bonus Boult was a proper treat. He'll be sore this morning, but he'll also be grooved, and there's a strong chance he runs through England this morning. That would be enjoyable to see.
05:40
I'm not quite sure what effect conditions will have today, because there's a bit of cloud and a bit of sun. The forecast, though, thinks the latter will soon disappear, and things will get greyer through the afternoon – I'd not be surprised to see a few wickets.
05:36
A week today, New Zealand will meet India at the Rose Bowl to determine the identity of the world's best Test team – I can't wait for that, except I can because I also can't wait for what's about to happen today. I do, though, think we need to do something about the format; I'm not sure what, but something. It probably begins with according all series(es) equal value and import.
05:28
Neil Wagner is happy. After losing the toss on a pitch looking unlikely to do much, he reckons 258-7 is a decent state of affairs. He was surprised to see the ball keeping as low as it did, and was especially happy with his team's afternoon behaviour.
05:23
Back to Lawrence, you could visibly see him grow in the final hour yesterday – perhaps someone fed him a mushroom at drinks – and he'll not have wanted the close. Now he's had that long night of the soul, it seems unlikely he'll carry on where he left off, but he won't want to rely too hard on the legends at the other end.
05:20
Goodness me, forget all that. Bumble, who started coming in disguise the summer before last (I think) is in tank-top cardigan, flat cap, cravat and pink-lensed sunnies. He looks like the troubled poet who we quickly learn is the murderer in an early episode of Columbo.
05:18
I was feeling bad about expecting a hundred from someone who's "only" on 67 and is yet to make one at this level, but it was in Wardy's introduction, so we're good.
12:03
Preamble
Naturally, there are words to say, but really all you need is the scoreboard to know that yesterday we saw and today we are about to see a belting day of Test Match CricketTM. New Zealand are on top, but England have a chance of posting a vaguely acceptable score – especially in the context of their vaguely acceptable pace attack.
Of course, we've been here before – most recently a week ago, when England began day four with two set batsman then promptly collapsed in a fashion that was equal parts classic and contemporary. Nor is it hard to foresee a reprise … and yet. Dan Lawrence batted superbly yesterday, and will presumably arrive at the crease having passed a long, lonely night buzzing off a crucial fifty and visualising a life-changing hundred – goodness, I daresay we spent a while doing so on his behalf. More of the same, and everything changes.
The ability to stay calm through such turmoil is one of the many things that sets sportsfolk apart from the rest of us, and it's Lawrence's good fortune to have equanimity's Mark Wood grinning and bouncing at the other end. There would surely be no better man with whom to share a maiden Test-ton hug – I'm gone at the mere thought – but a lot of work is required before we can embrace that embrace. Go well, people.
Play: 11am BST
Updated