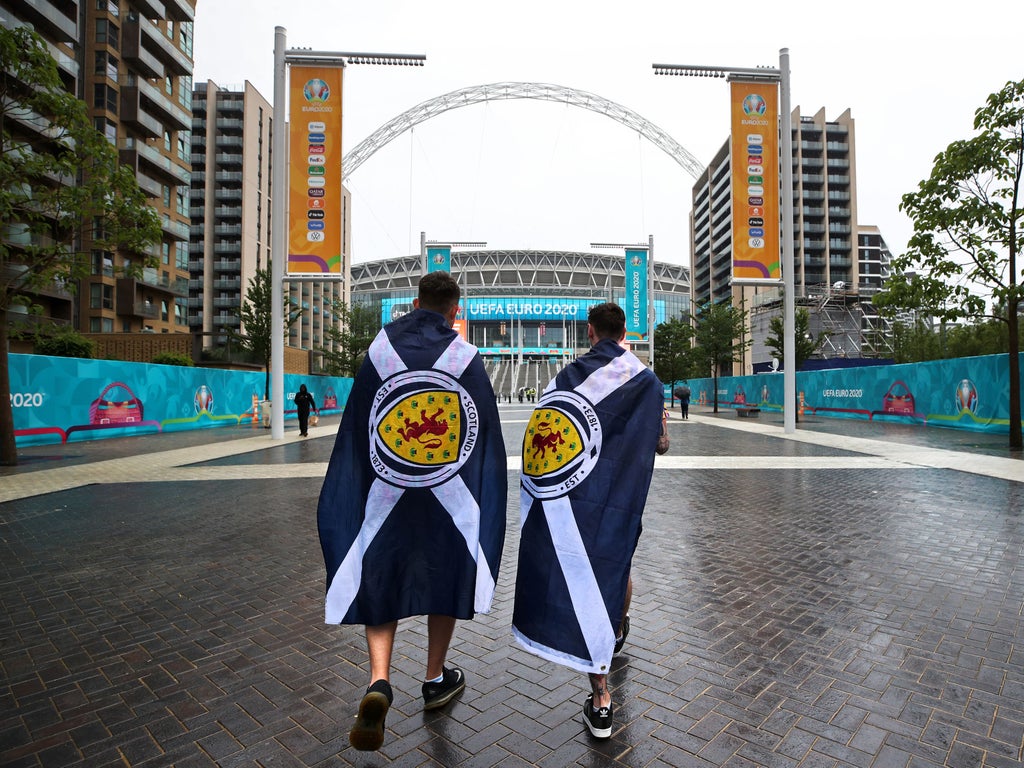 Euro 2020: Daily briefing
England host Scotland at Wembley Stadium tonight in what should be a fiercely-contested Group D fixture at Euro 2020.
England kickstarted their campaign on Sunday with a 1-0 victory over Croatia, while Scotland fought valiantly in front of a raucous Glasgow crowd but fell to a 2-0 defeat by Czech Republic at Hampden Park on Monday. Steve Clarke's men, undone by a Patrik Schick brace last time out that included the goal of the competition so far, might just need a win here to give themselves a chance of qualifying for the last 16, though most fans and pundits expect Gareth Southgate's players to beat the Scots comfortably. The visitors cannot be written off, however, with talented footballers such as Liverpool's Andy Robertson, Manchester United's Scott McTominay and Aston Villa's John McGinn among their ranks.
The last time these two home nations met on such a sizeable stage was at Euro 96 – the scene of Scotland's last appearance at a major men's tournament – with the Three Lions emerging 2-0 winners, thanks in part to Paul Gascoigne's iconic volleyed goal, which was followed by his iconic 'dentist's chair' celebration. Will it take a similar moment of magic to settle this tie at Wembley? We're about to find out. Follow live updates from England vs Scotland at Euro 2020 below.
1624030487
Euro 2020: England vs Scotland
On that Gascoigne goal, this will undoubtedly be the only time you'll see the England star's iconic goal (and celebration) against Scotland today.
Richard Edwards caught up with the player who supplied to assist to Gazza's strike, Darren Anderton, for a look back at the goal which defined an England generation.
If ever 60 seconds of football encapsulated the magic of football – although less so if you're of a Scottish persuasion – it was those that occurred between minutes 78 and 79 under a scorching mid-summer English sun.
A penalty to Scotland was taken by Gary McAllister and saved by Seaman. England then broke to score perhaps the most fabled major tournament goal since Geoff Hurst's disputed third in the 1966 World Cup final.
"I passed ball to Gazza and even within the game it seemed like it was slow motion," Anderton says. "You think he's going to hit it first time with his left foot on the volley, which he's more than capable of doing.
"Then a bit of magic, flicking it up in the air. I'm not kidding, everything turned to slow motion, it was just so bizarre. As the ball comes back down, you know there's only one place it's going to end up. Then the celebration and everything else. Magical.'"
Jamie Braidwood18 June 2021 16:34
1624029729
Euro 2020: England vs Scotland preview
Scotland's supporters are clearly out to make the most of their men's side first involvement in a major tournament since 1998, and tonight's match against England has been circled on the Tartan Army's calendars ever since Steve Clarke's side booked their place at Euro 2020 in November.
But are the players as fixated on this fixture as they used to be? As The Independent's Miguel Delaney writes, despite the history of this clash, Gareth Southgate's side are focussed on the present, and the possibility of a future prize at Wembley.
Jamie Braidwood18 June 2021 16:22
1624029093
Euro 2020: Thousands of Scots descend on London
The Tartan Army have well and truly arrived in London. Despite warnings from the Mayor of London Sadiq Khan and the Scottish First Minister Nicola Sturgeon to not travel to the capital without a ticket, the Scots have made the trip down to London in their thousands.
Central London has been taken over by those in blue, with Hyde Park, Trafalgar Square, Piccadilly Circus and Leicester Square mobbed by visiting supporters.
"Yes Sir, I Can Boogie" has been the soundtrack of the Tartan Army's adventure so far.
Watch: Scotland fans sing on arrival in London ahead of Euro 2020 game against England
Boisterous Scotland fans were filmed singing 'Yes Sir, I Can Boogie' outside London King's Cross train station on Friday ahead of their side's Euro 2020 clash against England at Wembley.Supporters draped in Scotland flags can be seen in the video belting out their unofficial anthem, a 1970s disco hit by Baccara, as they dance and fist pump the air on the station's forecourt.The Scotland-England group match kicks off at 8pm. The tournament has so far seen England beat Croatia and Scotland lose to Czech Republic.
Jamie Braidwood18 June 2021 16:11
1624028431
How to watch England vs Scotland tonight
There's plenty at stake for both teams too, of course, as far as each country's Euro 2020 campaigns are concerned.
England can book their place in the last-16 with a win, joining Italy, Belgium and Netherlands, while Scotland would give their hopes of qualifying a huge boost if they can claim a result.
Here's everything you need to know ahead of the game tonight, including how you can watch online and on TV.
Jamie Braidwood18 June 2021 16:00
1624027784
Euro 2020: England vs Scotland
Good afternoon and welcome to The Independent's coverage of the Euro 2020 meeting between England and Scotland at Wembley.
It's arguably the biggest sporting event of the year so far and the clash between these two old rivals is certainly not one to miss.
Thousands of Scots have made the journey down to London for the match and while the majority of them will not be able to be in the stadium, there is set to be a cracking atmosphere in Wembley for the game.
We'll bring you all the build-up and team news ahead of the 8:00 pm kick-off.
Jamie Braidwood18 June 2021 15:49