11:10
It's 6-3 in the tie-breaker and three set points for Swiatek. Kontaveit saves the first.
Updated

11:08
Swiatek winds up three destructive backhands consecutively and simply bullies Kontaveit out of the point on the Estonian's serve. She leads by two points in the tie-breaker, 4-2.
She tries a forehand to the corner, and it's just wide, but she will serve still a mini-break up.
Updated

11:07
Sakkari (17th seed) and Mertens (14th seed) are 4-4 in their first set on Court Simonne Mathieu.
11:06
Nadal breaks – that is four in a row – and it's 3-2 to Norrie. This is some match.
Updated

11:05
Kontaveit and Swiatek are into a tie-breaker for the first set.
11:04
Nadal now has 0-40 on Norrie's serve in this break-fest of a second set.
11:03
Kontaveit and Swiatek at deuce, with the Estonian serving to stay in the first set.
11:02
Nadal breaks back for 2-1 in the second set against Norrie … but the Briton earns a break point in the next game … and WOW! He takes on a big, big forehand winner down the line, on the run, and breaks straight back, for the third break in a row! Norrie leads 3-1, second set. That would have to be the best shot I've seen at this tournament.
Updated

10:59
Swiatek holds for 5-6. Kontaveit must again serve to stay in the set. This is another superb match, with neither player taking a backward step, both players taking their shots on and hitting with maximum commitment.
Updated

10:57
Swiatek is finding her feet – she climbs into a huge forehand, which is just far too hot for Kontaveit to hope to get back, although she does her best and finds the net. Swiatek aces next, only for her Estonian opponent to absolutely crush the next return of serve, crosscourt, for an emphatic statement of intent and to take it to deuce.
Updated

10:53
Kontaveit holds comfortably for 5-5 against Swiatek on Court Philippe-Chatrier.
Updated

10:52
Fantastic from Norrie, who breaks Nadal to lead 2-0. He sends a forehand wide and Nadal can only direct his shot into the net.
10:52
Chance for Norrie, meanwhile, at deuce on Nadal's serve … and he gets a break point!
10:51
Swiatek has roared back into this first set. Kontaveit must summon the memories of the two times she's already beaten her Polish opponent – although both those occasions were before Swiatek stepped up to the top level with victory here in Paris last year.
10:48
Swiatek clips a stunning, curling pass down the line for 30-0 on her serve, 4-4 in the first. She follows that up by whipping a forehand crosscourt for 40-0, and closes out the love hold for 5-4 – Kontaveit must serve to stay in the first set.
Updated

10:48
Norrie is on the board first in the second set against the 13-times champion Nadal.
10:46
Swiatek has now won two break points against Kontaveit, but she overhits a backhand, and it's 30-40 and 4-3 to the Estonian.
Big point coming up … and Swiatek breaks back! It's 4-4. The champion is back in business.
Updated

10:40
Kontaveit is now 4-2 to the good against Swiatek.
Nadal, meanwhile, produces another comfortable hold and he takes the first set 6-3 in 36 minutes.
10:38
A love hold for Norrie, rounded off with a very smart drop shot which plonks over the net perfectly. The crowd applauds appreciatively. It's 5-3 and the British No 2 is in this match.
Updated

10:35
Nadal is moving through the gears now. He holds serve with ease, rasping a forehand winner down the line, with Norrie in a different postcode over on the other side of the court. It's 5-2.
Updated

10:30
Nadal has Norrie under pressure at 15-40 on the Briton's serve. Nadal sends a forehand wide, but Norrie still has a break point to save. He butchers a forehand into the net, and Nadal leads 4-2 in the first.
10:25
Kontaveit holds her first service game, and creates a 2-0 lead against Swiatek.
It's 3-2 for Nadal now in the first against Norrie.
Updated

10:23
Norrie holds for 2-2 and is competing admirably well so far.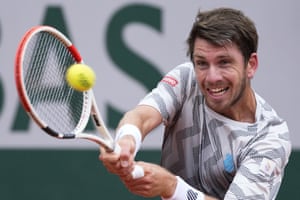 Updated

10:20
Kontaveit breaks the champion, Swiatek, in the first game of their third-round match on Court Philippe-Chatrier!
Updated

10:16
Nadal opens up the court with a massive forehand and then comes in to the net to put a volley away – coming millimetres from touching the net – but he's just ok. The Spaniard earns two game points, and finishes it emphatically with a crisp forehand down the line. He leads 2-1, and it's with serve in the first set.
Updated

10:12
An impressive opening service game from Norrie makes it 1-1 in the first set.
Updated

10:11
Top stuff from Norrie, living with Nadal blow-for blow in a 21-shot baseline rally, and winning it as Nadal fluffs a forehand long.
Updated

10:07
Norrie took it to 0-30 on the Nadal serve, but the Spaniard hits back to hold serve for 1-0 in the first set. The power of one Nadal forehand, in particular, had Norrie shaking his head in wonder just then. A taste of things to come, you suspect.
Updated

10:04
Nadal won the toss, and is serving in the first game of the match against Norrie.
10:03
Iga Swiatek, the women's champion, is about to begin her match against Anett Kontaveit. They have played twice before, and Kontaveit has won twice, but Swiatek is a different proposition since winning at Roland Garros last year.
09:58
Thanks for holding the fort, Will.
Nadal, the 13-times champ, has just strolled on to court to face the British No 2, Cameron Norrie.
09:48
Novak Djokovic beats Ričardas Berankis 6-1, 6-4, 6-1
A relatively simple day out at Roland Garros for the Serbian.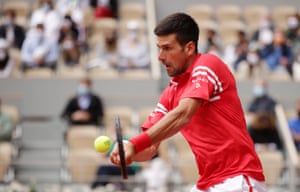 Updated

09:38
Sofia Kenin beats Jessica Pegula 4-6, 6-1, 6-4
The fourth seeds makes it through in the end. Plenty of the favourites have already left the tournament, so Kenin will be feeling pretty confident about her chances now.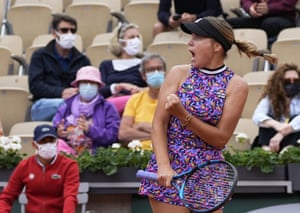 Updated

09:30
Djokovic takes the first three games of the third set. I think we can safely say this one is over as a contest.
09:21
Kenin goes 4-2 up in the deciding set against Pegula after saving a break point.
09:16
Another man with a two-set lead is Novak Djokovic after he holds his serve to take the second. There was definitely more resistance from Berankis this time around but it was inevitable the Serb would win it.
09:15
After a second set battle with Carlos Alcaraz, Jan-Lennard Struff wins it on a tie-break to go 2-0. The Spanish teenager, despite being down, looks like a fine player in the making.