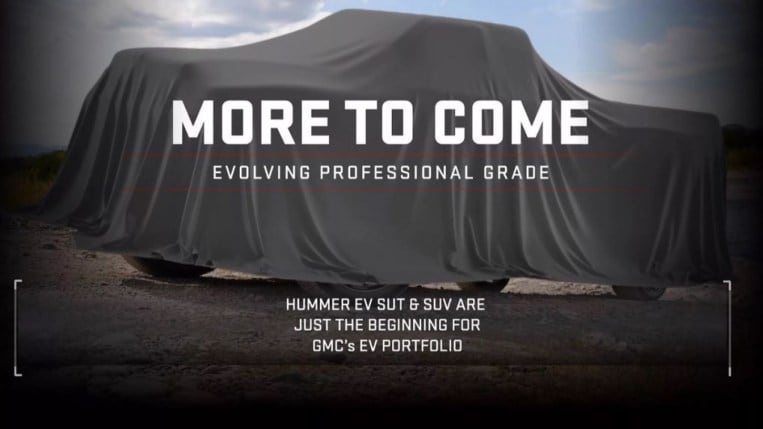 Electric trucks aren't everywhere just yet, but they will be if you stick around a while. Ford says its sub-$40,000 F-150 Lightning will reach buyers next spring. Ram says its electric Ram 1500 will go on sale in 2024. Chevy promises an electric Silverado with up to 400 miles of range soon. Not to mention the utterly unique Tesla Cybertruck, and planned electric trucks from multiple startups, like the Rivian R1T or Canoo's promised electric pickup.
GMC already has one answer to this challenge. The company is already accepting orders for the ultra-capable GMC Hummer EV pickup. But the Hummer is pricey, and its rugged look is far from what conventional truck shoppers have shown they're willing to buy.
So GMC has announced a second electric truck.
A Mystery for Now
GMC Global Vice President Duane Aldred told reporters yesterday that the brand will soon roll out another full-size electric truck.
Unfortunately, that's virtually all anyone outside the company knows about the vehicle at this point. But we think we can speculate with some confidence.
It's Probably an Electric Sierra
The Chevy Silverado and GMC Sierra are effectively twins. The two share nearly every bolt in common, functioning almost as two trim levels of one truck. In fact, if we counted them as a single model for sale purposes (which parent company GM doesn't), they'd have been America's best-selling vehicle last year. The Ford F-150 beat each separately but falls behind if you combine them. So odds are good that GM wouldn't build an electric Silverado without offering an electric Sierra alongside it.
An electric Sierra would also offer buyers a more conventional layout than the Hummer EV. That includes, most likely, a lower price and a larger bed. EV trucks make a lot of sense for commercial customers whose trucks drive predictable routes and wouldn't be limited by a fixed range. An electric GMC Sierra, then, seems like a logical step.
In fact, GM teased the EV announcement with an image of what looks like the current Sierra under a sheet – though a GM spokesperson says the image is not representative of the upcoming truck's final design.
We'll bring more information when we have it.