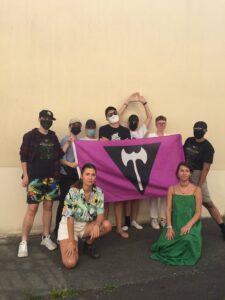 Résistance Lesbienne, a French lesbian group, was threatened at Bordeaux Pride. The group's assailant – believed to be a member of Antifa – was part of a group calling for the women to leave the march. He then lit a flare and attempted to burn members of Résistance Lesbienne, forcing them to give way or risk injury. Résistance Lesbienne posted footage of the attack on their Twitter account:
Vidéo de notre agression prise par une femme témoin. On y voit beaucoup mieux la scène. pic.twitter.com/OqEgLCbZHX

— Résistance Lesbienne (@ResistanceLesbi) September 13, 2021
Résistance Lesbienne is a grassroots activist group "behind the action for lesbian visibility and against GBT lesbophobia." Following the attack, they Tweeted: "We are the lesbian pacifists who proudly affirmed our homosexuality at Pride Bordeaux, and a transgender member of Antifa tried to burn our banners and our legs with a flare."
As Résistance Lesbienne's footage shows, they were marching peacefully. The group carried a banner with their name, the Labrys (a symbol of lesbian pride), and two interlocking signs of Venus. Their chants translate as "lesbian, not queer" and "lesbians don't like penises."
Un homme transidentifié « antifa » tente de brûler des lesbiennes à la Pride de Bordeaux
Trans-identified male « antifa » try to burn lesbians at Bordeaux Pride (France) #resistancelesbienne #getthelout #lesbiennepasqueer #womenwontwheest pic.twitter.com/QHNoCglMBy

— Résistance Lesbienne (@ResistanceLesbi) September 12, 2021
Lesbians around the world are punished for rejecting sex that involves a penis. For decades, violence has been weaponized as a way of forcing lesbians into heterosexual compliance. From conversion therapy to corrective rape, this history is brutal. And now – at a Pride March – lesbians are threatened with burning because they claim same-sex attraction.
Team AfterEllen condemns violence against lesbians and stands in solidarity with Résistance Lesbienne.