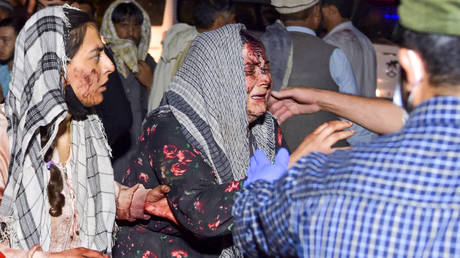 A second blast has been confirmed at the Baron Hotel near Kabul airport following another major explosion amid military evacuation. It follows a warning from France's envoy to Kabul telling civilians to leave the area urgently.
Shortly before the second blast was confirmed, France's Ambassador to Afghanistan warned civilians to "take cover" away from the gates to the Kabul airport, saying a second explosion may be imminent after confirmed reports of a major blast at the airport's Abby Gate.
Ambassador David Martinon tweeted an "urgent" warning to "all our Afghan friends" on Thursday, warning that a "second explosion is possible." US officials have said the first blast was likely the work of a suicide bomber outside the airport.
US Department of Defense Press Secretary John Kirby confirmed a second blast had shaken the area of the Baron Hotel.
"We can also confirm at least one other explosion at or near the Baron Hotel, a short distance from Abbey Gate," Kirby tweeted, also confirming a number of US casualties in what he called a "complex attack."
Local health officials told reporters that 60 died between the two blasts and 140 were wounded. Earlier, a Taliban spokesperson told Reuters that 13 had died outside the airport following the initial blast, including children and Taliban guards.
The Baron Hotel houses UK army personnel, who are processing Afghans hoping to enter the UK, but no British military casualties have been reported, according to the Ministry of Defence press office.
UK PM Boris Johnson plans to chair an emergency COBRA meeting Thursday afternoon after being updated about the airport explosions.



Also on rt.com
Dozens killed & injured, including Americans, after Pentagon confirms 2 EXPLOSIONS outside Kabul airport




The scene at Hamid Karzai International Airport was already chaotic before the explosion, as thousands of Afghans, Americans and others seek safe passage out of the country before the August 31st deadline.
Intelligence reports had surfaced earlier this week warning of "imminent" terrorist attacks on the Kabul airport by ISIS-K — an Islamic State affiliate in Afghanistan.
Like this story? Share it with a friend!