Steve Bannon called out Donald Trump's staff for allowing the recent dinner between rapper Kanye West and white nationalist Nick Fuentes to take place at the former president's Mar-a-Lago residence.
Trump, who earlier this month announced his 2024 presidential bid, continues facing rebuke for the dinner with Fuentes, a Holocaust denier, and West, who has recently made several antisemitic remarks online where he said he would go "death con 3" on the Jewish population. However, the former president has defended the meeting, saying he did not know who Fuentes was.
Bannon, a former Trump strategist, questioned during an episode of his War Room podcast on Saturday why Trump's staff allowed the controversial meeting to take place, describing it as a setup to tarnish Trump's image.
"Did the staff think that this was a good idea?" he asked, describing the dinner, in which West, who legally changed his name to Ye last year, offered Trump a spot as his running mate on his own presidential run as a "trolling operation."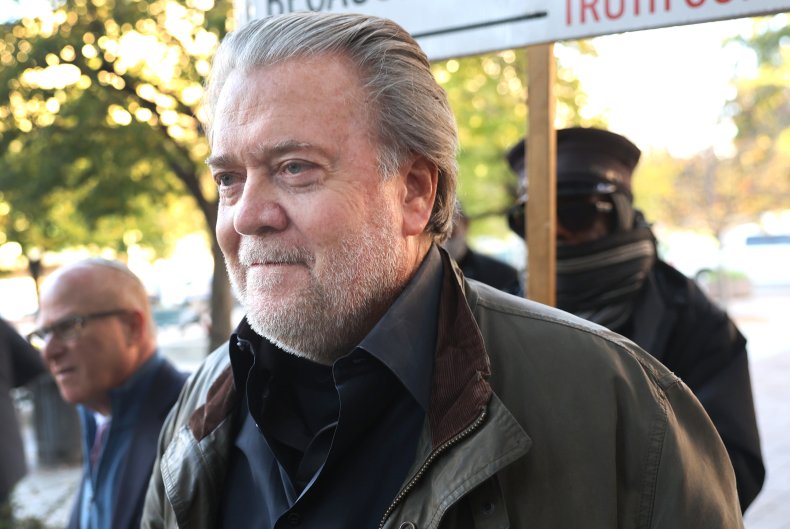 He said the meeting was intended to "insult Trump," "put Trump in his place," and make it seem as though the former president "lacks judgment." Bannon also pointed to the onslaught of criticism Trump has faced from former supporters such as John Bolton, who served as Trump's national security adviser.
"So this was well thought through. This just didn't happen. The staff should know that. The staff should be on top of that. The staff should be doing interventions into this, if that's the case, and make sure this type of thing doesn't happen," Bannon added.
Most of the criticism surrounding the dinner is directed at the presence of Fuentes, who gained notoriety after attending the deadly white nationalist rally in Charlottesville, Virginia, in 2017. He is known for making antisemitic comments, including comparing the mass genocide carried out during the Holocaust to baking cookies in an oven.
The Southern Poverty Law Center describes Fuentes as a "white nationalist livestreamer" and an "outspoken admirer of fascists such as Mussolini."
Meanwhile in a Truth Social post on Friday, Trump defended the dinner and said: "So I help a seriously troubled man, who just happens to be black, Ye (Kanye West), who has been decimated in his business and virtually everything else, and who has always been good to me, by allowing his request for a meeting at Mar-a-Lago, alone, so that I can give him very much needed 'advice.'"
The former president continued: "We also discussed, to a lesser extent, politics, where I told him he should definitely not run for President. Anyway, we got along great, he expressed no anti-Semitism [and] I appreciated all of the nice things he said about me on 'Tucker Carlson.'"
According to Trump, West showed up with three people, two of which he did not know and another person who he had not "seen in years."
Newsweek reached out to Bannon and Trump spokespersons for comment.