10:47
Tea-time scores
Hampshire 233 & forfeit v Leicestershire 84 & 26-1 – match drawn
Essex 217 v Warwickshire 166 & 66-1. Warwicks lead by 15 runs
Nottinghamshire 400/5 dec v Worcestershire 80 all out and 114-4. Worcs trail by 206
Derbyshire 258 v Durham 168-7.
Northamptonshire v Lancashire 88/1. Match drawn
Kent 307 and 60-1dec v Glamorgan 64/3 and 23-1. Match drawn
Gloucestershire 27-6 v Somerset 300-8dec. Match drawn
Surrey 190 & 259-2dec v Middlesex 160 and 74-2. Middlesex need 216 to win
10:40
Dane Vilas on rain and Jimmy Anderson: "It's terrible when you come to a ground like this, see such a nice pitch and then you don't get much cricket on it. Guys like Jimmy (Anderson) needed overs. That was the main thing for him going towards the Test match.
"We won't have Jimmy against Yorkshire – he'll be back in the England bubble on Friday, but we have a good stable of fast bowlers who as always have learnt a lot from him."
10:39
Gloucestershire v Somerset: match drawn
Gloucs 27-6 v Somerset 300-8. Gloucestershire points, Somerset .
A Bristolian escape.
10:33
It is raining again at Chelmsford unfortunately, and buckets and frogs at Bristol.
10:27
A lone figure creeps back across the emerald turf, Libby caught at square leg for 64. Worcs 103-4. Nottinghamshire need six more.
10:23
At Trent Bridge Jake Libby, 60 not out, has found a partner with staying power. D'Oliveira has 17 off 29 balls. Worcs 97-3.
10:12
Sam Robson is pintailed by a swinging ball from man mountain Reece Topley,; a couple of balls later, he prods and is collected by Rikki Clarke at second slip. Middlesex 47-2. I'm not sure I can bear watching Handscomb bat.
10:01
Post-match Matthew Maynard musings:
"Marnus (Labuschagne) is a very resilient player, you don't get to number three in the world easily, he's had a couple of decent balls and a dubious lbw decision in this game, those things happen sand I'm sure Marnus will score plenty of runs for us this not just this season but in seasons to come.
"We bowled fantastically well in the first innings to get in the position we did (Kent 128-8) but Darren Stevens did what Darren Stevens can do, I thought it was a wonderful enterprising innings though we gave him a couple of chances and we probably didn't put enough pressure on (tail-ender Miguel) Cummins.
"Delighted with the way the guys have been in the first seven games, we need a few more partnerships with the bat and some big hundreds, but with the ball I'm delighted, we've bowled straighter than previous years and it's paid dividends, and we've caught well."
09:58
Bancroft (39 not out off 137 balls) has at last found a partner who can stick with him – Ned Eclersley (33 off 59 balls). Apologies, as I type, Stuart Poynter arrives at the crease. Bancroft lbw to Critchley for 39, slow but steady and he got Durham over the the follow-on line. Durham 117-6.
09:50
Fifty for Jake Libby, reached with a rather gracious drive.
09:46
And another! Who you ask? Fletcher I say. Worcestershire 63-3 as Haynes prods his third ball and Fletcher grabs the ball off his own bowling. This is Fletcher's first ten-fer in a match. Worcs 63-3 and need rain soon.
09:43
Action! A snatch at short leg, Fletcher again! Fell goes for 13, Fletcher 2-13, Worcs 63-2.
09:40
In the crowd at The Oval, a hardy woman pulls her anorak collar up over her nose with her mittened hands, half an inch of eye visible before the bottom of her bobble hat. Clarke has the ball, we try again…
09:35
Rain, rain, everywhere except Derby, where Durham stumble on, 96-5, 12 runs from avoiding the follow-on.
09:33
Northants v Lancashire: match drawn
Northamptonshire v Lancashire 88-1.
Just 34.3 overs possible in a four-day wash out. The only story, a fifty for Alex Davies. Time to dry off and head home.
09:26
Ooof, I've just switched on the live stream from The Oval where father and son are sheltering under an umbrella and the wind is attempting to push even Rikki Clarke backwards. Not for long, off they go again. Middx 21-1.
09:16
The rain's scattergun approach is paying dividends – currently only two games in progress – at Derby where Durham are 70-5, with Bancroft stolidly holding the fort; and at Trent Bridge where Worcestershire have reached half their first innings score, for the loss of only one wicket. Only the possibility of bonus points keeping life in the game at Northants, where the weather relented briefly to give Davies to reach fifty before it returned with vigour. Only 34.4 overs have been bowled in the match.
09:08
If you are a Middlesex fan, retreat a little, fasten the shutters, withdraw to the bedroom and pull up the sheets. Roach, with his tail up has Jack Davies caught by Ollie Pope for 2.1 8-1. It's all about Robson and Gubbins. Ah, but what merciful news, a temporary reprieve, the rain has returned.
09:01
Kent v Glamorgan: match drawn
Kent 307 and 60-1dec v Glamorgan 64/3 and 23-1. Kent 12 points and Glamorgan 11.
Rain spoils the best of intentions in what will forever be known as Stevens' match: 190 off 149 balls for the big man, a contender for innings of the year.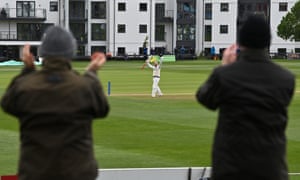 Updated

08:54
Action in the last 15 minutes: they're on, ye gods, at Northampton, where Alex Davies is just three short of his fifty; nightwatchman Danny Briggs has been out at Chelmsford where Warwicks are 66-1 and Dominic Sibley is at the crease; Worcestershire haven't lost a wicket (29-1); but Durham have (57-5, Bancroft still there on 20). It is raining at Canterbury and Middlesex have so far countered a steaming Kemar Roach (14-1).
08:08
Time for a quick stroll in the squall. Back in half an hour!
08:02
Lunch time scores on the doors
Hampshire 233 & forfeit v Leicestershire 84 & 26-1 – match drawn
Essex 217 v Warwickshire 166 & 63-0. Warwicks lead by 12 runs
Nottinghamshire 400/5 dec v Worcestershire 80 all out and 10-1. Worcs trail by 310
Derbyshire 258 v Durham 51-4.
Northamptonshire v Lancashire 75/1. No play yet today, due to start at 1.30pm
Kent 307 and 60-1dec v Glamorgan 64/3 and 23-1. Glamorgan need 281 to win
Gloucestershire 27-6 v Somerset 300-8dec. Gloucs trail by 273
Surrey 190 & 259-2dec v Middlesex 160 and 4-0. Middlesex need 286 to win
07:55
In the game of weather okey-cokey at Derby, Durham are back out, 47-4.
Raining at Trent Bridge, where they're taking an early lunch, as they are at Bristol, Canterbury and Northampton.It is also raining at Chelmsford, while at The Oval, the Middlesex challenge begins: 0, currently, for 0.
07:46
A hundred for Rory Burns as Surrey declare on 259-2!
Burns reaches three figures and promptly declares.Middlesex need 290 to win. Ollie Pope had time to ruffle to 37 off 20 balls with four fours and a couple of big uns.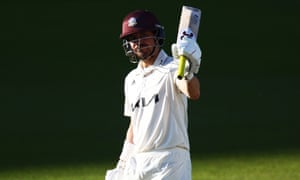 07:41
Fletcher! Again! Eight! Mitchell! Gone! Worcestershire 7-1.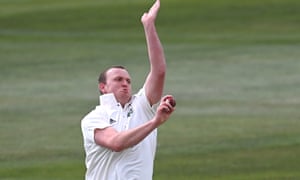 07:34
Quietly, Durham have lost two wickets this morning, Borthwick and Bedingham gone, leaving Bancroft (15 not out at the top of the order) and Burnham at the crease. Durham 43-4, Ben Aitchison an amazing 4-8.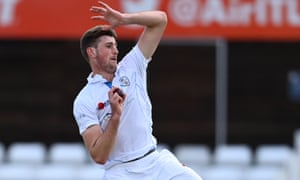 Daryl Mitchell has just been dropped on one at Trent Bridge. Hameed again.Not sure this will last till tea.
07:28
Rain-watch: no play currently at Chelmsford (Warwicks 63-0); Bristol (Gloucestershire 27-6); Canterbury (Glamorgan 23-1 – David Lloyd the man out for 17) and Northampton (Lancs 75-1: no play yet, due to resume at 1.30pm)
And at Trent Bridge, Stuart Broad has the new ball to start Gloucestershire's second attempt at batting – they lost 4-24 for this morning.
07:15
Worcestershire 80 all out!
Seven for Fletcher, three for Broad. Gloucestershire follow on – 320 behind. It's all about survival lads.
07:13
"Morning, Tanya," Morning Outolokowski!
"Very grey here in Canterbury, but a laudable decision by both sides to make a game of it. Attached pic is Lloyd fending off Stevo."
Sadly the picture hasn't worked, but here are some spectators doing what you're doing: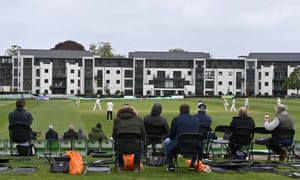 At Bristol, Overton is back in the rhythm, back in the loop: Gloucestershire 27-6. Cockbain the victim.
06:58
They'll be trooping back on again at Bristol at noon. At Chelmsford, Warwickshire are zipping along 51-0 and have made up the first innings deficit.
And the skittles continue to tumble at Trent Bridge, Worcestershire now 74-9 as Stuart Broad earns his second wicket.
A shout out for Marcus Rashford and Jordan Henderson – amazing generosity.
Updated

06:49
A miserable story from India, where the BCCI are said to have withheld the prize money owed to the women's team for reaching the final of the T20 world cup in 2020: £350,ooo between them.
06:42
Kent have declared! Glamorgan need 304 to win in 84 overs
Douthwaite and Carlson to get there with ten overs to spare.
06:39
Mark Stoneman has been caught off Ethan Bamber at The Oval, Surrey 157-1; Haseeb Hameed has dropped a catch in the slips at Trent Bridge in the slips. Cold hands.
If Luke Fletcher's success over the last two days is success for your typical England seamer – who are the best of that ilk in county cricket at the moment? Throwing Ben Coad into the mix.
06:34
Fletcher's 7-26 are a career best.
They're off for rain at Bristol after Craig Overton's early morning stretch was followed by a wicket for Josh Davey as Kraigg Brathwaite is caught for 15. Gloucestershire, ouch, 25-5.
06:31
If you're watching at a ground, and your numb fingers are still functioning, do send a message or photo to tanya.aldred.freelance@theguardian.com or @tjaldred.
In the meantime, Luke Fletcher has persuaded Alzarri Joseph to follow suit and snick behind . Fletcher 7-26. And Worcestershire 63-8 – with two and three-quarters of a day to survive.
06:16
The joy of rain after the drought . Rampant Nottinghamshire charge onwards, as Luke Fletcher picks up his sixth wicket, Josh Tongue caught behind for 7. Worcestershire 56-7.
06:12
The start is delayed at Derby, where the heavens have opened.
06:10
And another, two balls later. Tom Lace is caught behind for a duck, Craig Overton has a third wicket (for 12) and Gloucestershire are fumbling in the spring at 21-4.
06:08
First ball wicket! Tom Smith is lbw to the first ball of the day at Bristol – Gloucestershire 21-3.
06:01
Oooooh – excitement at Canterbury! Glamorgan have declared on their overnight score of 64-3 – 243 behind: a hoopla run-chase is on the cards.
05:49
Some pre-match reading. Here is Wisden's profile of Mohammad Rizwan, one of the Five Cricketers of the Year and a thoughtful piece by Ian Chappell on whether the modern cricketer has it better.
I think every match except Northants v Lancs will start on time.
05:39
Weather watch
"Today, areas of cloud and persistent rain will continue to sweep eastwards through the afternoon, spreading across much of the UK. Parts of the far east may remain dry until the late evening."
05:28
Incidentally, can anyone advise how best to hang a paper lampshade so it hangs straight and you don't punch a hole in it in the process? Particular tips needed for when you can't see what you're doing because the ladder is too short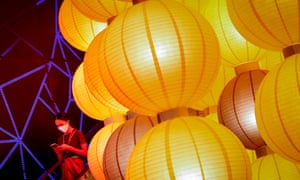 05:22
Love this story. Seems the people of Barcelona have a soft spot for the great English game, if not our Eurovision entry…
05:15
Saturday's round-up by Simon Burnton
A decade after his previous County Championship involvement – four matches for Warwickshire in 2011 title – Kemar Roach's second spell in the competition ends today and he seems determined to sign off with a flourish. Opening the bowling for Surrey he produced a phenomenal spell, taking three wickets in eight overs as Middlesex were reduced to 27 for four.
Since Surrey had found themselves at 135 without loss on the afternoon of day one, 14 wickets had fallen for 82 runs, but Middlesex then staged a recovery of sorts to post a score of 160, with John Simpson's 100-ball 68 the highlight. Surrey's second innings was greeted by the unfamiliar sight of sunlight and in the best batting conditions of the match they led by 165 with 10 wickets left at the close.
The batting performance of the day came at Trent Bridge, where Ben Duckett scored a superb unbeaten 177, with 19 fours, to guide Nottinghamshire from 51 for three to 400 for five, whereupon, final batting bonus point safely banked, they promptly declared against Worcestershire, who ended the day trailing by 347 runs. Duckett and Lyndon James (78) put on 205 for the fourth wicket before James top-edged a catch to Brett D'Oliveira at cover, whereupon Steven Mullaney rattled off 88 runs from 73 balls.
Somerset survived a collapse from 127 for two to 143 for six, with Gloucestershire simply unable to deal with Tom Abell. The 27-year-old scored a superb 132 with support from Lewis Gregory, who came in at No 9 to score his second half-century of the season and claim second place, behind Abell, in his side's batting averages. Somerset declared on 300 for eight before reducing their opponents to 16 for two.
At the Ageas Bowl, Hampshire's Kyle Abbott and Mohammad Abbas – against the side he represented in 2018 and 2019 – came very close to bowling through the Leicestershire first innings, going unchanged for 29 overs and taking nine wickets between them. Abbott took six including that of Rishi Patel for 27, the only one of the top nine batsmen to reach double figures, but Alex Evans and Ed Barnes put on 30 for the last wicket and the visitors avoided the follow-on by a single run.
With 22 overs left in the day Hampshire forfeited their second innings, daring Leicestershire to tilt at the 6.8 runs an over required to win. They did not and the match was drawn.
04:58
Close of play scores
Hampshire 233 & forfeit v Leicestershire 84 & 26-1 – match drawn
Essex 217 v Warwickshire 166 & 0-0 – Warks trail by 51 runs
Nottinghamshire 400/5 dec v Worcestershire 53/6 – Worcs trail by 347
Derbyshire 258 v Durham 20/2 – Durham trail by 238
Northamptonshire v Lancashire 75/1
Kent 307 v Glamorgan 64/3 – Glam trail by 243
Gloucestershire 16-2 v Somerset 300-8 – Gloucs trail by 284
Surrey 190 & 135-0 v Middlesex 160 – Surrey lead by 165
04:20
Preamble
Hello! It's the final day of a damp round seven, with seven games left, most of them draw-ridden. The match with the highest chance of some Sunday pizzaz, bells and brisket, is at Trent Bridge. There Nottinghamshire, inspired by Ben Duckett's unbeaten 177 , have a chance to leap to the top of Group One. They have Worcestershire in deep trouble, 347 behind on first innings, with only four first-innings wickets left.
I'm afraid the rain threatens once again, with a late start already called at Northampton where the groundstaff are out with their mops. Inspection there at 11am and more news round the grounds as it comes in.
Updated