Transformation of the Day: Tasha lost 112 pounds. She decided to start her wellness journey to address her unhealthy eating habits and avoid potential health issues in the future. Her approach is all about taking this process one step at a time and figuring out what works best for her. She shared with us how she used healthy food, exercise, and self-discipline to reach her goals.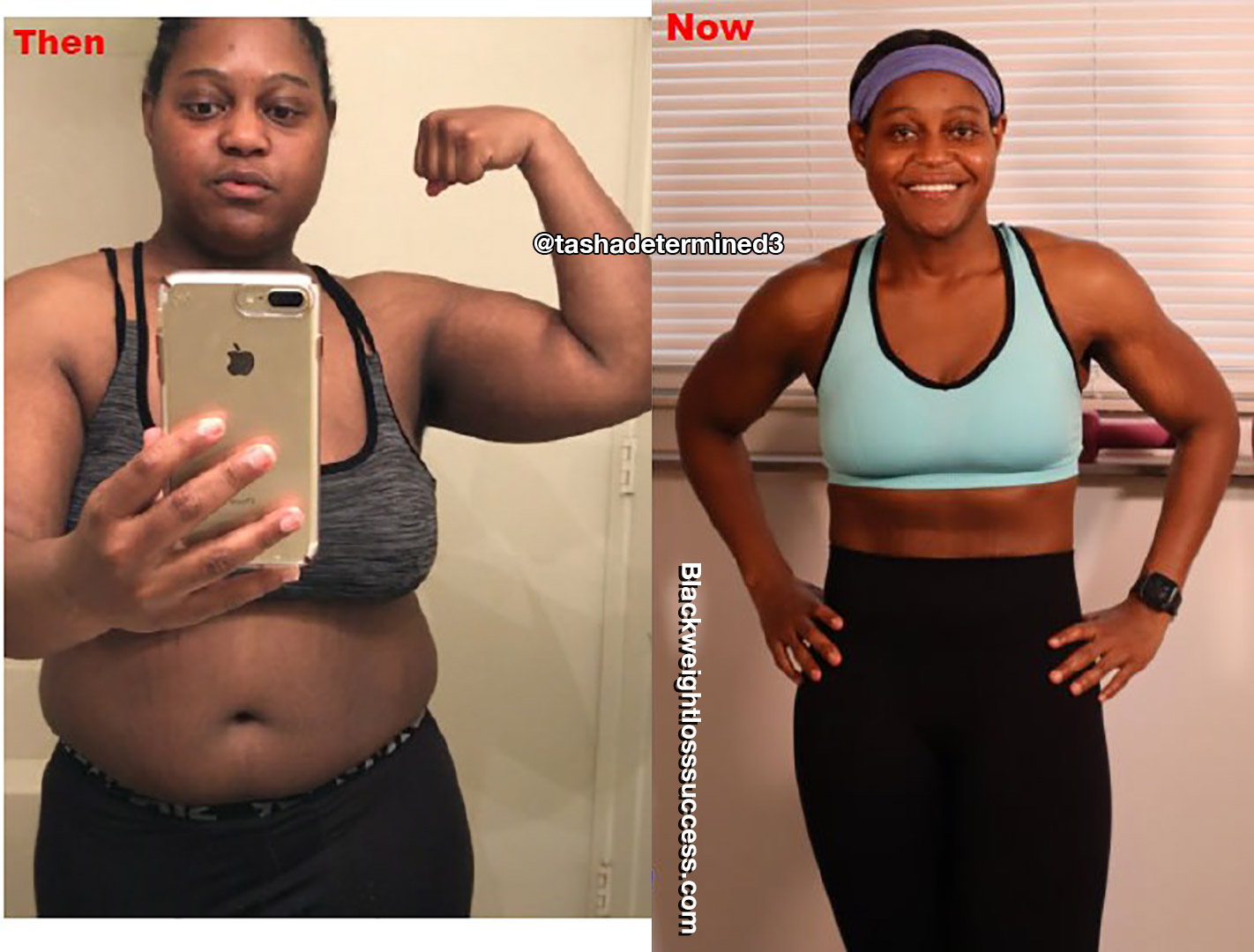 What was your motivation? What inspired you to keep going, even when you wanted to give up?
Knowing that I wanted to live and be the best version of myself helped me with my weight loss and fitness journey. My biggest motivation was knowing that I could have diabetes and other health complications if I continued to eat in an unhealthy way. 
My weight loss journey was life-changing! My weight loss journey is my most notable personal development memory. My weight loss journey was literally an emotional roller-coaster full of highs and lows! What inspired me to keep going when I wanted to give up; was knowing my Why (Why do you want to lose the weight?). My why was the driving force during difficult times. 
How did you change your eating habits? 
I changed my eating habits significantly. My eating habits were very unhealthy, and I was on the verge of having diabetes and other health complications. Also, my meal portion sizes were too large. I would eat 2 or 3 plates during dinner. My favorite snack is potato chips, and I could eat one family-size bag of potato chips in one sitting. 
I incorporated high protein and low carb meals into my nutrition plan. I stopped eating fried foods. Instead, I began to eat more grilled and baked foods. I stopped eating red meat, such as ground beef, and I stopped eating pork. Instead, I ate more boneless skinless chicken breast, ground turkey, salmon, catfish, and shrimp. 
I started using extra virgin olive oil when cooking meals. I incorporated more vegetables into my meals, like broccoli, kale, spinach, okra, asparagus, green beans, and brussels sprouts. I also limited the amount of carbs I ate (limiting pasta, white rice, bread, and potatoes). I started eating brown rice and cauliflower rice instead. I cut down on drinking pop/soda and eating snacks, like cookies, candy, and potato chips. I had a cheat meal/treat meal once a week.
What did your workout routine consist of? How often did you work out?
I started slowly with my fitness journey. I started walking. Walking is an effective way to lose weight and build cardio strength. Walking tends to be underrated when it comes to weight loss, but walking is effective! 
I took my fitness journey and weight loss journey one day at a time. I started by walking 30 minutes 3 times a week. Then, after about two weeks, I increased my routine to walking four times a week for 30 minutes. Next, I advanced to walking six days a week for 30 minutes. After I felt comfortable walking, I started jogging and then moved on to HIIT (High-Intensity Interval Training).
What was your starting weight? What is your current weight?
My starting weight was 254 pounds. I went from 254 pounds to 142 pounds, so I lost 112 pounds – 100% all-natural! My current weight is 144 pounds.
What is your height?
I am 5'5″.
When did you start your journey? How long did your transformation take?
I began my weight loss journey on April 4th, 2017. It took me nine months to lose 112 pounds. 
Is weight loss surgery part of your journey?
I did not have weight loss surgery. No weight loss pills, and no shortcuts. 
What is the biggest lesson you've learned so far?
The biggest lesson that I have learned is the difference between discipline and motivation. I enjoy discussing discipline and motivation in regards to weight loss. I believe the critical distinction between discipline and motivation is longevity. 
In certain situations, motivation can be temporary, while discipline can last a lifetime! There were many days when I was not motivated to eat healthily or work out, but my discipline and commitment to myself allowed me to persevere and lose 112 pounds! I was not always motivated each day, but I was definitely disciplined each day!
What advice do you have for women who want to lose weight?
Take the micro approach (small steps) to weight loss instead of the macro approach (looking at the big picture). I did not take a macro approach by thinking, "Oh wow! Omg, I have to lose over 100 pounds!!😳😥" 
Taking a macro approach can be overwhelming. Thinking about losing over 100 pounds was overwhelming for me, so I decided to take a micro approach by taking things one day at a time. Each day I took actions that got me one step closer to my weight loss goal.
I also want to express that losing weight requires patience and consistency. Take your time and trust the process! If you take your time, understand the micro approach to weight loss, and trust the process, your weight loss goal CAN and WILL be achievable! Believe in yourself! You are worthy! Self Believe= Self Love= Self Discipline 
Youtube: www.youtube.com/channel/UCuiTgWSozMLO3xZU9c9J_5A
Facebook: www.facebook.com/tasha.determined 
Instagram: @tashadetermined3