20:03
The projected cut has drifted out to +4. If it stays there, the extra stroke will save the likes of Jordan Spieth and Paul Casey, plus those still out there who are teetering on the edge: Edoardo Molinari, Marcus Armitage, Shane Lowry and Martin Kaymer.
19:59
Kopeka lags his long eagle putt to kick-in distance. A fuss-free birdie, and suddenly that up and down from 86 yards on 12 looks huge. Having nearly found himself back at level par – alongside Bryson, gossip fans – he's moving in the right direction now at -2. This is how you win US Opens.
19:55
An extremely disappointing bogey for Rafa Cabrera Bello at the par-five 9th. He sends his second way left, somehow avoiding the really thick stuff. He finds the green, but doesn't hit his 20-foot birdie putt, then yips the short one left for par. He's back to -2. Meanwhile some awful luck for Schauffele on 12. He whisks a bunker shot straight at the flag. The ball's rolling in, only to hit an opponent's marker! It takes enough speed off the ball, which stops one dimple short. Par. He smiles nonetheless.
19:50
A sensational fairway wood on the par-five 13th by Koepka. He takes out all his frustration on the cover of the ball, an almighty swipe from 301 yards finding the edge of the green. He's left with a long eagle effort, but that got the crowd going. Two putts for birdie from 40 feet would reignite his challenge, too.
19:40
A reminder of the leader board. It's been a while. There are currently 13 players under par. Lucky for them. Here they are.
-5: Bland (F), Henley (13*)
-4: Oosthuizen (F)
-3: Watson (F), Rahm (F), Wolff (12), Schauffele (11), Cabrera Bello (8)
-2: Streelman (F)
-1: Scheffler (F), Hughes (13*), Koepka (12), F Molinari (12*)
19:37
An up and down from 86 yards on 12 by Brooks Koepka. He remains at -1 and perhaps that scramble will fuel a resurgence? He's done nothing since those early birdies were quickly wiped out by a couple of bogeys. Back on 11, Mickelson sends a dismal tee shot wide left of the green, snookered, and is forced to execute a Kevin Na style mile-high flop. He gets it onto the green, but can't make the long par putt he leaves himself. A bogey that drops him back to +3.
19:32
News of Viktor Hovland. He got some sand in his eye when practicing before the round, and hasn't been able to get it out. It's either been irritating him, or affecting his vision, or both. Either way, it would certainly go some way to explaining his poor showing today; he was six over for his round when he withdrew.
19:28
Rafa Cabrera Bello's tee shot at the par-three 8th takes a hot bounce through the green and onto the fringe at the back. He dips into his Seve's Book of Tricks, standard issue for Spanish golfers when toddlers, and bumps a lovely gentle chip, curving right-to-left, into the cup for birdie! He's back up to -3.
Updated

19:23
Phil Mickelson has been uncharacteristically quiet today. He played the front nine in 34, a birdie at 2, otherwise all pars. But he's turned in style, knocking his second at 10 to 12 feet, then rolling in the birdie putt. He's +2, just seven off the lead, and … I mean, obviously, no … no … surely no … but you never know!
19:20
Viktor Hovland wasn't going well. He'd played the back nine in 40, then doubled the 1st. He was +9 for the tournament. Now he's withdrawn. Not sure why; presumably an injury, though there's no obvious sign of physical struggle. We'll find out soon enough. Shame not to see the exciting Norwegian in contention this week. Godspeed young Viktor.
19:16
Two putts for Koepka on 11, and he remains at -1. He's joined there by Mackenzie Hughes, who you may remember starting fast with three straight birdies. He subsequently dropped a stroke at 1, but has responded in fairly spectacular fashion, whistling a 40-foot tramliner straight into the cup with supreme confidence at 2.
19:14
Henley has a chance to grab the lead for himself after firing his approach to 2 over the flag. His birdie putt coming back from 15 feet stays low on the left. He remains at -5, then sends his tee shot at the tricky par-three 3rd safely into the heart of the green, albeit nowhere near the flag.
19:10
Koepka sends a 4-iron into the left of the par-three 11th. One yard further, and his ball was catching the camber and turning in towards the flag. It'd have been close. But it topples back down a ridge. He'll still have an outside look at birdie from 40 feet, on the most difficult hole on the course, but he'll reflect that it's a thin line between success and failure in golf.
19:00
Schauffele is this close to gently clipping his third into the cup at the par-five 9th for eagle. Lovely hands. He'll tap that in for a birdie that'll take him up to -3. Up on 10, Justin Thomas drains a 20-footer to save his par and celebrates accordingly. He remains at +1. His playing partner Koepka can't make his saver, though, and the two-time winner is under a cloud at the minute. He slips back to -1.
18:57
Trouble for Koepka on 10. His second takes a hot bounce on the green and flies into thick cabbage at the back. His whip out ends 15 feet past the hole. He's struggling to get anything going after handing back those two early birdies with obscene haste. Big putt coming up in momentum terms.
18:49
Henley is very unfortunate not to hole out from sand for another birdie, this time at 1. It was a perfectly weighted pitch, rolling slowly towards the cup, dead centre. Somehow it hit the stick and instead of dropping, kept rolling and stopped on the far side of the cup. Still, guess he'd have taken par when he found his ball in the sand. He remains in a share with Bland at -5.
18:47
Cabrera Bello continues to make a meal of 5. He plays two weak wedges from the thick rough down the right, and does well to get up and down from the fringe to limit the damage to double bogey. That hole was a farce from beginning to end. He drops to -2. Meanwhile on 10, Matthew Wolff rattles in another long putt for a birdie that lifts him to -3.
18:43
A fourth birdie on the spin by Collin Morikawa! He makes it at the par-five 9th, and that's a best-of-week front nine of 31 strokes. He's level par, and the 2020 PGA champ is a serious contender again. This is some performance; he looked down and out after immediately slipping to +5 this afternoon. But now look.
18:41
An awful start to the round by the 2017 Players champion Kim Si-woo. Four bogeys in a row, between 11 and 14, and he's clattered down the standings to +4, currently one shot outside the cutline. Better news for Ian Poulter, who has birdied 12 and 14 to move to +1. You'd imagine the US Open would be the perfect major for Poulter's street-fighting smarts, but he's never cracked the top ten in America's tournament. He's currently tied for 21st.
18:37
Russell Henley ends his run of eight pars with a birdie at the par-five 18th. He's on the fringe in two. A gentle bump and run to five feet, and in goes the putt. He joins Richard Bland in a share of the lead. Meanwhile trouble for Rafa Cabrera Bello at 5. He finds a bunker with his tee shot, then gets a bit too greedy with his second, bashing the ball into the face. It balloons up and disappears into some thick cabbage.
-5: Bland (F), Henley (9*)
-4: Oosthuizen (F), Cabrera Bello (4)
18:34
Xander Schauffele hacks his way down the rough to the left of 7. Always out of position, he inevitably ends up with a bogey that drops him to -2. He responds with one of the shots of the day at the par-three 8th, caressing a gentle draw to four feet. A great chance to bounce back immediately.
18:29
Eagle for Brian Harman at 9! He sends his third rolling serenely into the cup after wedging from the thick rough down the left of the par-five, 60 yards out. He's level par, and it's time for your daily reminder that no left-handed player has ever won the US Open. It's about time!
18:27
You'll have noticed Cabrera Bello back up to -4. He made bounceback birdie with a 20-footer tickled down the green at 4. Birdie meanwhile for the 2019 champion Gary Woodland at 15; it brings him to +3, just inside the projected cut line.
18:24
The greens are firming up, and nobody's making a serious move on Richard Bland. Good news for the likes of Collin Morikawa (+1) and Mackenzie Hughes (-1) who are both currently three under for their rounds, trying to make up ground from starting positions further back in the pack.
-5: Bland (F)
-4: Oosthuizen (F), Henley (8*), Cabrera Bello (4)
-3: Watson (F), Rahm (F), Schauffele (6)
-2: Streelman (F), Wolff (8), Koepka (8)
18:20
Francesco Molinari continues to head in the wrong direction. Bogeys at 15 and 16, and he's back to level par. Older brother Edoardo is faring no better, having played the back nine in 40 strokes. He's four over for his round and +3 for the championship.
18:19
It's three birdies in a row for Collin Morikawa at 8! His tee shot lands seven feet from the flag, avoiding the sort of drama served up by Koepka. In goes the putt, and he's +1, right back in this. A two-putt par for the aforementioned Koepka from the fringe at the back, meanwhile, and he remains at -2.
18:15
In the group behind Wolff, Koepka pitches his tee shot four feet from the cup. The ball rears up and cannons off the flagstick, only just holding the fringe at the back. Meanwhile a three-putt bogey for Rafa Cabrera Bello at the par-three 3rd; the Spaniard drops back to -3.
18:11
Back-to-back birdies for Matthew Wolff. He rakes a 50-footer into the cup on 7 for the first, then knocks his tee shot at the par-three 8th to six feet for the second. Last year's runner-up is -2 overall now. Yesterday's 70 was a rollercoasting tour de force, featuring eight birdies, three bogeys, two double bogeys and just five pars. He's nothing if not extremely entertaining.
18:07
Thanks David. So after that opening bogey, the 2020 PGA champ Collin Morikawa really needed something special if he's to play this weekend, never mind compete for the title. Well, he's putting it all together. Bounceback birdie at 2, followed by back-to-back birdies at 6 and 7. He's now +2 and suddenly just seven off the lead. This field is bunched. Good luck confidently picking the winner at the moment.
18:02
The west coast US Open is always a tough challenge for UK viewers. Will you be staying up until close of play? One man who will is Scott Murray and here he is to guide you through the rest of day two. Happy golfing.
Updated

17:59
Rory McIlroy is asked to sum up his feelings after 36 holes. After a pause, he goes with: "Umm, I mean pretty good. I mean one-over is still right in the tournament so I can't be too disappointed about today. There's too many bogeys on that scorecard but I least I made up for it, I made five birdies."
17:54
It's back-to-back bogeys for Koepka after his par putt at 6 stays above ground and he's back to -2 and into a tie for eighth. Back at 5, Phil may be 51 but there's nothing wrong with his knees and he snaps them sharply again as his birdie try catches the hole but stays out. He remains +3.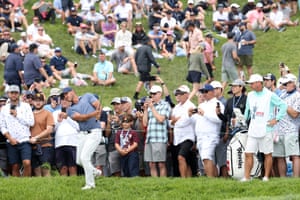 Updated

17:50
Up at 15 (his sixth hole of the day), Russell Henley has a 25-foot breaking putt to tie for the lead but it's a total misread. The ball shows no interest in turning back towards the hole and Bland stays out on his own at -5.
Updated

17:46
Koepka wobbling a little here. He finds greenside sand at 6 and his bunker shot flops rather apologetically onto the green. It'll be around 12-15 feet for par and he's in danger of back-to-back bogeys.
17:45
I actually spent 10 minutes earlier trying to see if Rikuya Hoshino was an anagram of Isao Aoki or Ryo Ishikawa. I wanted some hot content in case the 25-year-old star from Japan continued his push for the lead. He didn't (shooting 74 and finishing at +1) and my attempts at a Japanese golf version of the Countdown Conundrum also didn't quite work out. Shame.
Updated

17:40
So, Richard Bland, is holding the 36-hole lead in a US Open a good idea? You could argue for no. All that pressure. It's a long run to home from there. And yet, hear this: five of the last seven winners had a piece of the halfway lead. TV folk may try and sell you the idea that anyone can win from the cut line. Nonsense. Looking at the last 19 winners, 17 of them were either in front or no worse than two off the pace with two rounds in the bag. The outliers: Brooks Koepka, who was five back at Shinnecock in 2018 and Webb Simpson, six adrift after 54 holes at Olympic Club in 2012. Even then, Koepka was in fourth place after 36. It leaves Simpson as the only player from outside the top six at halfway to have won this century. The window of opportunity shuts fast if you're slow out of the blocks in a US Open.
17:36
Ouch! Schaffele's birdie at 4 lips out. Just didn't hit it firm enough on his chosen line and he remains at -3.
17:34
Schauffle doesn't appear to like his approach to 4 and asks it to "kick left". The ball listens, boy does it listen, and does a sharp tourner à gauche off a bank, ending about three or four feet away. Another golden birdie chance. At 5, Koepka can't save par and drops back to -3.
Updated

17:29
Justin Thomas floats a lovely wedge at 5 to five feet and will have a birdie putt to get back to +1 after four opening pars. But Koepka has made a mess of this same hole. He's in thick greenside cabbage and short-sided. Not a time to be too cute and he makes sure he finds the green to take double out of play. He'll have 20 feet for his par.
Updated

17:26
Xander Schauffele is on the move! The San Diego native strokes his 20-footer in for birdie at 3 and is up to -3 and just two back. Looks like he knew exactly how that ball would break late. Here's a hint why. "I played 64 holes last week starting on Wednesday. I played 18 Wednesday, 18 Thursday, 10 holes Friday, 18 Saturday," the American revealed ahead of the tournament.
17:22
As well as the Hamburger Helper Helping Hand and Noseybonk, here's another image that shall probably haunt me through the night. This came in a press release from the good people at the Solheim Cup today. It may look friendly but you'll be hearing songs from The Wicker Man as you tuck yourself in.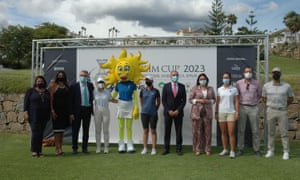 17:17
Mickelson's tee-shot has been caught in the thick stuff around the third green so it's not too bad at all. The original camera angle suggested something much more sinister. He dinks it onto the green and…. ooh, almost into the cup for birdie. Worthy of a little knee flex from the veteran southpaw as it flirts with the hole. He'll take that though.
17:14
Some whoops around the second green as local hero Schauffele taps in from two feet to balance the books and get back to -2. The third is a 168-yard downhill par 3 and he plonks his tee shot hole high and about 20 feet left of the flag. Before he hit, there's an "oh no" from Phil as his tee-shot bounces off the back edge and into who knows what.
17:12
England on top here via Richard Bland but not in the football where it finished 0-0 at Wembley. Meanwhile, Phil Mickelson (an Open winner in Scotland), strokes in a birdie putt from seven feet at 2 to get back to +3 and inside the cut line.
17:07
So, not a great start for Xander Schauffele. But, hey, what's the big deal about a bogey at the first hole. Tiger famously won here in 2008 and made double bogey at 1 on Thursday, Saturday and Sunday.
17:04
Thanks Scott. What on earth is that Hamburger thing?! It's brought back suppressed childhood memories of this…
17:00
Right, I'm off to get me some Hamburger Helper. Your old pal and mine, David Tindall, will take you through the next hour. Enjoy, and see you soon!
16:58
A cold start by Xander Schauffele, who comes up short with his second at 1, then leaves a bang-average chip 15 feet from the hole. Bogey that drops the local hero to -1.
16:52
A little bit of a lull right now … so why not reacquaint yourself with some classic US Open yarns?
16:47
A hell of a start to the afternoon for Mackenzie Hughes. The 30-year-old Canadian hasn't got much of a CV, with just one win on the PGA Tour, and that at the low-key, early-season RSM Classic, back in 2016. A tie for 40th back in April at Augusta is by far his best showing in any major, but something could be cooking here: birdies at 10, 11 and 12 have catapulted him up the standings to -1 in double-quick time!
16:44
A quick start for Koepka, as he sends his second at 2 pin high, then rolls a ten-footer straight into the cup. He joins the group tied for fourth. Bogey for Francesco Molinari, though, at the difficult par-three 11th. He slips out of that group.
-5: Bland (F)
-4: Oosthuizen (F), Henley (2*)
-3: Watson (F), Rahm (F), Koepka (2), Cabrera Bello
-2: Streelman (F), F Molinari (2*), Schauffele
16:40
Xander Schauffele makes his way out. He's starting at 1, and pulls his drive into a big fairway bunker down the left. He should have no problem from there. He'll be going round again with none other than Phil Mickelson. The record-breaking 51-year-old PGA champion splits the fairway. After yesterday's 75, he needs something extremely special today if he's to retain even outside hopes of completing that career slam this week.
16:37
Guido Migliozzi, the young Italian who lost to Richard Bland in the play-off for the British Masters last month, is also going along nicely here. A 71 yesterday, and now he's clipped his tee shot at 3 to four feet, tidying up for an early birdie. He moves to -1.
16:33
Kevin Streelman finds the 18th in two. A couple of fuss-free putts later, and that's a bogey to close. He's signing for a 69 to go with yesterday's 71, and goes into the weekend at -2. Meanwhile Francesco Molinari is out, and he pars his opening hole, the 10th, to remain at -3. Sadly his brother hasn't started so well, dropping shots at 10 and 11 to slip down the standings to +1.
16:29
Koepka's birdie putt has plenty of left-to-right swing, and he doesn't set it out wide enough. He'll make do with an opening par. He's -2. He's going round with 2017 PGA champion Justin Thomas, who also pars, and 2020 PGA winner Collin Morikawa, who can't get up and down from the bunker to the left of the green. Thomas remains at +2; Morikawa, who needs something special after yesterday's 75, immediately goes in the wrong direction. He's +5.