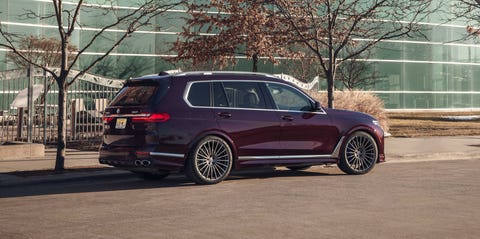 Michael SimariCar and Driver
Instead of subjecting the X7 SUV to its full M treatment, BMW defers the go-fast work to longstanding tuning partner Alpina, which is responsible for the range-topping 612-hp 2021 XB7. As with the 7-series sedan and its B7 Alpina variant, the result is an impressively powerful and refined machine that we'd argue works better than a theoretical X7 M would.
Read the full review
1 of 47
The BMW Alpina XB7 sits atop the X7 lineup and costs $142,295 to start.
2 of 47
The XB7 is based on the X7 M50i model, which features a twin-turbo 4.4-liter V-8, eight-speed automatic transmission, and standard all-wheel drive.
3 of 47
2021 BMW Alpina XB7Alpina updates the XB7's engine with larger turbochargers, a new active exhaust system, and additional cooling capacity. The result is a bump from 523 horsepower to 612 with torque climbing from 553 to 590 pound-feet.
4 of 47
Our 5864-pound XB7 test car ran to 60 mph in 3.7 seconds, which is 0.4 second quicker than the M50i model and only 0.1 second behind the Alpina's closest rival, the 603-hp Mercedes-AMG GLS63.
5 of 47
With its optional 23-inch wheels shod with Pirelli P Zero PZ4 summer tires, our XB7 stuck to the skidpad with 0.92 g of grip and stopped from 70 mph in a trim 149 feet.
6 of 47
Despite its gigantic wheels and thin-sidewall tires, our test truck rode commendably well over Michigan's poorly maintained roads.
7 of 47
Unlike BMW's high-performance full M models, Alpina's versions tend to be similarly rapid yet somewhat softer and more luxurious in character.
8 of 47
Our initial XB7 test car exhibited some unusual bucking motions while orbiting the skidpad at its grip limit, which Alpina determined was the result of the vehicle's computers thinking a rollover was imminent and directing the suspension and brakes to overcorrect. Alpina has decided against revising its software since the conditions were so uncommon that drivers will likely never encounter it. However, our test vehicle did exhibit some similar suspension motions when rapidly circling a highway entrance ramp.
9 of 47
Exterior changes for the XB7 are subtle. Aside from model-specific 21- or 23-inch wheels, these include a new front bumper with a deeper front air dam and ALPINA lettering, plus a revised rear bumper housing four large exhaust pipes.
10 of 47
The XB7's interior is mostly the same as that of lesser X7s, except for some Alpina badges, a revised instrument-cluster display, and a switch from paddle shifters on the back of the steering wheel to the tuner's trademark shift buttons.
Advertisement – Continue Reading Below
This content is created and maintained by a third party, and imported onto this page to help users provide their email addresses. You may be able to find more information about this and similar content at piano.io