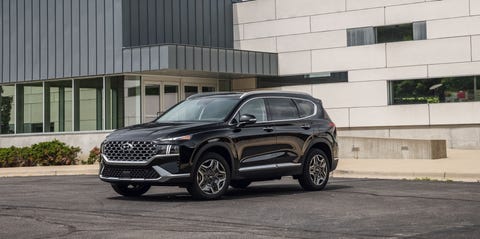 Michael SimariCar and Driver
Hybrid powertrains haven't been a big focus for Hyundai until recently, but the company's latest crop of gas-electric vehicles, including the updated 2021 Santa Fe hybrid, offer more fuel-efficient options and greater levels of refinement.
Read the full review
1 of 33
Hyundai gave the already handsome Santa Fe a more distinctive front end for 2021, including a larger grille, more intricate headlamps, and a reworked bumper.
2 of 33
In addition to the Santa Fe's updated styling, a new hybrid powertrain joins the lineup, pairing a turbocharged 1.6-liter four-cylinder with an electric motor and a six-speed automatic transmission.
3 of 33
Our hybrid test car's 7.5-second run to 60 mph makes it slower than the 277-hp Santa Fe 2.5T we recently tested, yet there's still plenty of power available for normal driving.
4 of 33
The Santa Fe hybrid is slightly quicker in a straight line than its main rival, the Toyota Venza, but it delivers a more pleasing driving character and has a roomier cabin.
5 of 33
The hybrid's electric motor provides responsive acceleration around town and when merging onto highways.
6 of 33
Fuel efficiency is better here than in nonhybrid Santa Fes. Our test car returned 31 mpg on our 75-mph highway fuel-economy test, but the Venza's result was an even more impressive 36 mpg.
7 of 33
Our Limited test vehicle came decked out with several niceties that push it to the near-luxury realm, including leather upholstery with quilted stitching, a panoramic sunroof, and a Harman Kardon audio system.
8 of 33
A large cargo bay offers ample space for luggage, and the rear seats fold flat to create space for longer items.
9 of 33
The Santa Fe's front seats are generously sized and comfortable, while the back seat is roomy enough for two adults. However, we did notice that the panoramic sunroof does limit headroom for taller rear-seat riders.
10 of 33
2021 Hyundai Santa Fe Hybrid Limited AWD
11 of 33
2021 Hyundai Santa Fe Hybrid Limited AWD
12 of 33
2021 Hyundai Santa Fe Hybrid Limited AWD
13 of 33
2021 Hyundai Santa Fe Hybrid Limited AWD
14 of 33
2021 Hyundai Santa Fe Hybrid Limited AWD
15 of 33
2021 Hyundai Santa Fe Hybrid Limited AWD
16 of 33
2021 Hyundai Santa Fe Hybrid Limited AWD
17 of 33
2021 Hyundai Santa Fe Hybrid Limited AWD
18 of 33
2021 Hyundai Santa Fe Hybrid Limited AWD
19 of 33
2021 Hyundai Santa Fe Hybrid Limited AWD
20 of 33
2021 Hyundai Santa Fe Hybrid Limited AWD
21 of 33
2021 Hyundai Santa Fe Hybrid Limited AWD
22 of 33
2021 Hyundai Santa Fe Hybrid Limited AWD
23 of 33
2021 Hyundai Santa Fe Hybrid Limited AWD
24 of 33
2021 Hyundai Santa Fe Hybrid Limited AWD
25 of 33
2021 Hyundai Santa Fe Hybrid Limited AWD
26 of 33
2021 Hyundai Santa Fe Hybrid Limited AWD
27 of 33
2021 Hyundai Santa Fe Hybrid Limited AWD
28 of 33
2021 Hyundai Santa Fe Hybrid Limited AWD
29 of 33
2021 Hyundai Santa Fe Hybrid Limited AWD
30 of 33
2021 Hyundai Santa Fe Hybrid Limited AWD
Advertisement – Continue Reading Below
This content is created and maintained by a third party, and imported onto this page to help users provide their email addresses. You may be able to find more information about this and similar content at piano.io